The Following is from a photo-essay originally published on JPG Magazine website 21 April 2008.
The people of Okinawa Japan are perhaps some of the most creative artisans the world knows today. On top of all that, they are probably some of the most resilient people I have ever had the pleasure of meeting in my life. They survived a living hell they now refer to as the "Typhoon of Steel" Most people know it as "the Battle of Okinawa." To them it was a hellish nightmare and the total devastation of their island paradise. (Roughly a quarter million people were killed during the three month long struggle).
In spite of this, they bounced back and displayed amazing grace in the process. One of the ways in which that artistic genius and resiliency met and manifested itself is in the art of Ryukyu Glassware. Before the war there was no glass manufacturing industry on Okinawa to speak of. Afterward and in the wake of total devastation they had nothing. Well, nothing except for a lot of empty and broken whiskey, beer and soda bottles left over from all the American GI's.
There weren't enough of them for it to be worthwhile for more than a handful of people to gather and collect the deposits as a way to be able to support themselves. That's where entrepreneurial genius and art met. By taking one mans waste and turning it into art (as well as something everyone needed) they created an entire industry and helped to rebuild their little corner of the world.
Today the local glassware industry is tailored to the tourist trade. While Ryukyu glass is still very highly prized and quite expensive, the many tourists who visit desire lower cost goods to send home as souvenirs. Now much of what is sold in the stores comes from outsourced manufacturers in third world countries such as Vietnam. But the chance to see this art form in action as well as take an active part in the creation of something still brings the people in and is a great pleasure to watch.
There are several glass factories like the one you see here scattered across the island. This one just so happens to be the most successful. It's located down in far southern Itoman City not far from Cape Kyan or Kyan Misaki. If you're on Okinawa, it's one of those must see tourist traps. For a small fee, you can take part in the glass blowing process like the young lady in the first picture. They also have a small pottery shop where you can make your own gifts.
Speaking of art and gifts, below is a photographic piece of art that I am very proud of. Click on the picture and it will take you to my store where you can have this digital art piece printed in the media of your choice as well as the size you desire. You can even have it matted and framed in a wide variety of materials too. Check it out!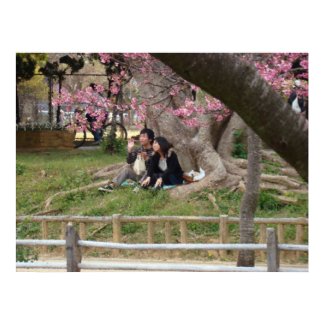 Lovers in Spring
by
graffkeith
Poster printing
At
zazzle
Browse other
Far East Posters